Corrugators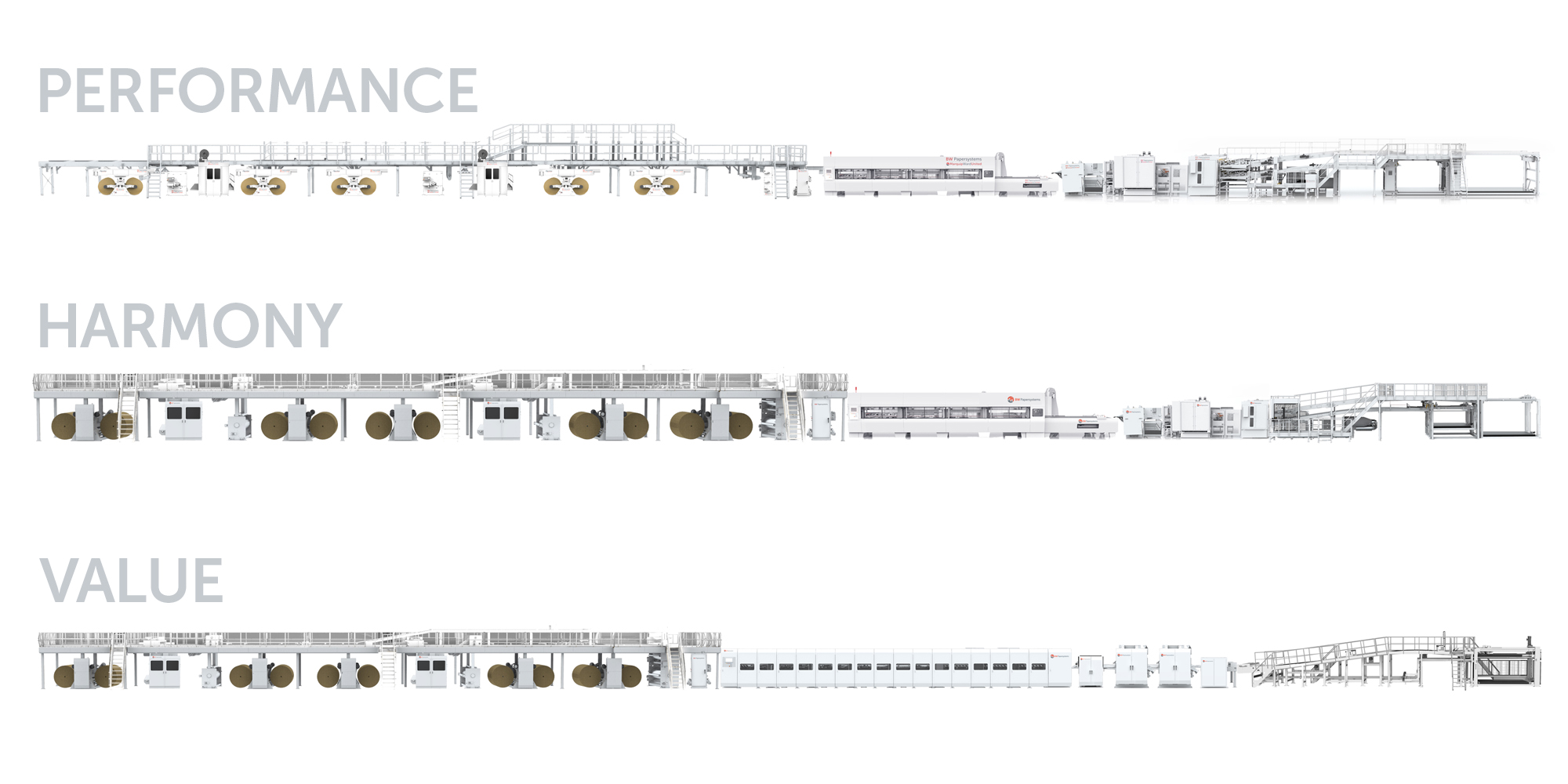 The World's Premier Corrugator Manufacturer
---
BW Papersystems is a premier corrugator machine manufacturer. We offer various complete corrugators and components to match your specific production needs.
We understand that each plant has different requirements and will need unique machinery or components. Your equipment will vary depending on the production capacity and speed requirements. At BW Papersystems, we provide flexible, customizable equipment to meet those specific requirements. Contact the BW Papersystems team to discuss your needs in detail.

BW Papersystems designs machines to fit our customer's requirements, whether single-wall, double-wall, or triple-wall. Machine width capabilities go from 1800mm (70") to 2850mm (112"), and production speeds range up to 460mpm (1,500fpm).
Complete Corrugators
We supply complete corrugators with flexible production and capacity requirements. Our speeds range from 200 MPM to 460 MPM. Learn more about our Value, Harmony, Performance, Corrugator Lines.
Corrugator Components
Our machinery components include splicers, roll stands, singlefacers, glue machines, doublefacers, slitter scorers, knives, and stackers. All our parts match the quality standards expected from an industry-leading machinery manufacturer like BW Papersystems.
Starch Mixing Systems
VortX is a fully automatic starch mixing system with a proprietary 10-step adhesive mixing process. VortX efficiently prepares precise starch batches in far less time than other systems. Achieve a better quality of starch mixing with BW Papersystems.
Complete Corrugators
Corrugator Components
Starch Mixing Systems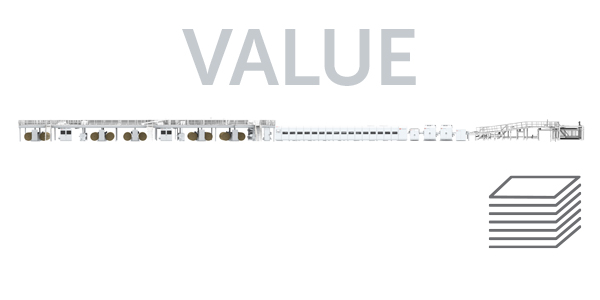 Value Corrugator Series
The Value Corrugator line is reliable and cost effective with a value on cost-to-performance ratio. The Value Corrugator, and its comprehensive management system, fits well in markets that require a high volume of order changes with moderate demand for product output for narrow to wide widths.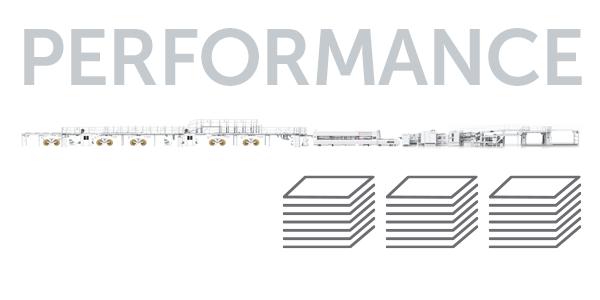 Performance Corrugator Series
The Performance Corrugator offers high productivity, and quality board. It features the Sentinel Complete Corrugator Control System, that allows for information to be communicated throughout the corrugator. The Performance line can be configured to be upgradable - to allow for future growth.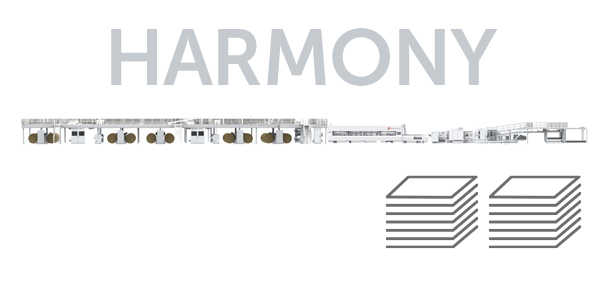 Harmony Corrugator Series
The Harmony Corrugator is designed for customers looking for a value on cost-to-performance and a "crushless" corrugator that offers quality board to satisfy their market requests. This is a customized solution with a modular design to meet the needs of our customers.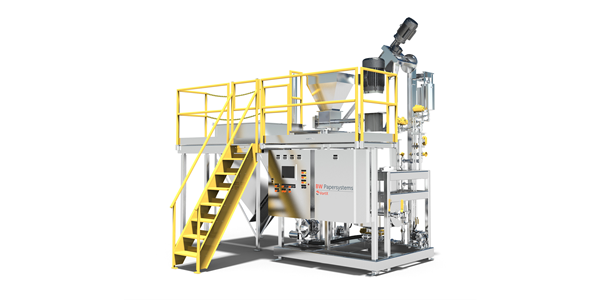 VortX Tornado F3 Automatic Starch Mixing System
The VortX Tornado F3 automatic starch mixing system maximizes efficiency on your product line.
Corr U Pro
---
Improve your Corrugating and Finishing equipment, grow your people, and optimize your business process.
Click Here
The BW Papersystems Corrugators Difference
With over 50 years of experience, BW Papersystems knows what is important for your plant. We pride ourselves on designing, manufacturing, and servicing corrugating machinery to focus on reliability and consistency. We build equipment with your productivity in mind.
Reliability
We design corrugators for businesses that are moving ahead and forward. We keep you moving with top-notch machines and strive to provide the most reliable products through our technology, training, service, and support. We continuously collaborate with our customers to provide the driving force for improvement and understand market needs.
Quality Corrugated Board
We design machinery for no-crush and precision cuts and create high-quality boards for conversion into corrugated packaging. You'll never need to sacrifice quality for speed again. As a leading manufacturer, we can equip you with a starch mixing system and customize the wet end and dry end of the corrugator. We also provide top-level corrugated sheets for your product mix to support your customers and market.
Custom Equipment
BW Papersystems will work with you to build a machine that fits your manufacturing facility, production needs, and business growth plans.
We have three corrugators lines: Value, Harmony, and Performance. Each line can be used as a starting point to build a machine to suit your budget and production needs. We have over 60 upgrade options to meet your goals.
BW Papersystems Corrugators' width capabilities: 1800mm (70") to 2800mm (112"), and production speeds up to 460mpm (1500fpm).
Training & Product Support
As an industry-leading manufacturer, the BW Papersystems team is committed to customer service and training. BW Papersystems has developed customized training programs to cover the essential aspects of using our corrugating machinery.
Our training services will help you increase production with longer intervals between maintenance, increase efficiency, and minimize machine downtime with improved fault diagnostics.
Learn more about our CorrU Pro training and optimization program. Contact us today to schedule training for your team.

Performance Corrugator
---
BW Papersystems designs all of its machines to produce high-quality results every time. As a leading corrugator machine manufacturer, we offer efficient and effective solutions to support corrugating businesses. This commitment allows us to continue providing customers with the highest quality products.
Watch Video
Corrugator Upgrades
---
With our extensive experience, we have developed various upgrades and Technical Improvement Programs to keep your BW Papersystems equipment prepared for future production demands.
The Technical Improvement Program offers a catalogue of standard upgrades.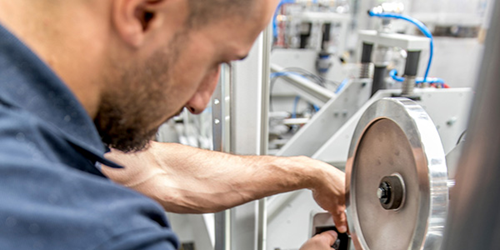 We wanted the best triplewall corrugator possible. The BW Papersystems Engineering team worked with us to design a corrugator that would offer sustained production at high speed. The new corrugator effectively more than doubled the manufacturing capacity of our business.