Questec RQS-V 850 / 1650 Rotary Sheeter
Product Description
---
The RQS-V rotary sheet cutter from BW Papersystems, designed with innovative Questec technology, provides powerful solutions for the most difficult lightweight paper grades or plastic films. It efficiently handles cut-to-register or cut-to-watermark products, small batches, and quick order changes. Products like patient information leaflets, package inserts, wet glue labels, in-mould labels and scratch sensitive plastic films all flow through the machine with ease
Learn more about our rotary sheeter and its unique sheet transport system below.
The Questec RQS-V is a size flexible, high-speed sheeter with innovative sheet transport by air. It efficiently handles lightweight paper grades for patient information leaflets, package inserts, wet glue labels, in-mould labels or scratch sensitive plastic films. A production speed of 400 m/min and extremely short start-up ramps make the RQS-V ideal for small batches and frequent order changes.
Precise Cut & Stack Quality
A clean, accurate cut with a cutting tolerance of ± 0,15 mm/1000 mm and a perfect stacking pattern due to gentle, safe pulling of the sheets onto the stack.
Various Sizes & Quick Change-Overs:
This sheeter offers sheet lengths ranging from 280 to 1800 mm and widths from 250 to 1650 mm. Quick change-over times for size and material allow an efficient handling of smallest batches.
Compact, Ergonomic Design:
The RQS-V only needs little space, requires no platform and is easily accessible from all sides
Easy operation
With its job memory, few setting points and extreme short start-up time, the RQS-V needs little attention. One operator can run two RQS-V sheeters in parallel.
Technical Data
Product Details
Options
RQS-V 85
RQS-V 145
RQS-V 165
Max. Web Width
850 mm (33.46 in)
1450 mm (57 in)
1650 mm (65 in)
Min. Web Width
400 mm (15.74 in)
400 mm (15.74 in)
400 mm (15.74 in)
Sheet Length
min. 400 mm / 15.74 in (optional: 280 mm /11 in)
max. 1060 mm / 42 in or 1500 mm / 59 in (optional: 1800 mm / 71 in)
Paper / Board Grammage
min. 40 gsm
max. 190 gsm (optional: 300 gsm)
Film Thickness
min. 50 μm
max. 190 μm (optional: 300 μm)
Max. Production Speed
400 m/min. / 1300 ft/min.*

Cut Accuracy
+ / - 0,15 mm (0.006 in )
Pallet Height
1500 mm
Number of Webs
1
Number of Pockets
1 - 4
Substrate
Paper, Board, Film, Wet Glue Labels, Specialties Papers
Options Available
Unwind, Inline embossing, Web cleaner, Web inspection, Slitting, Cut-to-Register,
Tab inserter, Sample taking device, Remote diagnostics
* dependent upon material characteristics & speed curve
Highlights of the Questec RQS-V
Speed: at 400 m/min. (1300 ft/min.), sheets are reliably cut and placed on the stack
Sheet transport by air: contactless «Air-Stream» transport without belts or rollers eliminates markings, turned-up corners (dog ears) or slipped sheets
Precision: proven cross cutting technology with a dynamic drive allows for a clean, accurate cut with a cutting tolerance of ± 0,15 mm/1000 mm
Quality: perfect stacking pattern due to gentle, safe pulling of the sheets onto the stack
Compact & ergonomic: No platform and very small footprint of the main machine of less than 3 m (10 ft), thus well laid out and easy and safe to operate
Reliable handling: thanks to "«Air-Stream» the material is always safely transported, independent of web curvature, statics or surface condition
Fast set-up times: extremely short start-up ramps thanks to fewer setting points plus job memory
Virtually maintenance-free: a sheet transport without belts or rollers eliminates wear
Applications:
Precision sheeting for manufacturers and converters of lightweight papers or plastic films, including materials with sensitive surfaces, e.g. in-mould labels, wet glue labels, pharmaceutical information leaflets or scratch-sensitive plastic films
Inline integration with Offset, Gravure, Flexographic or Digital web-fed presses for commercial or specialty printers like product insert printers (PIL), even including embossing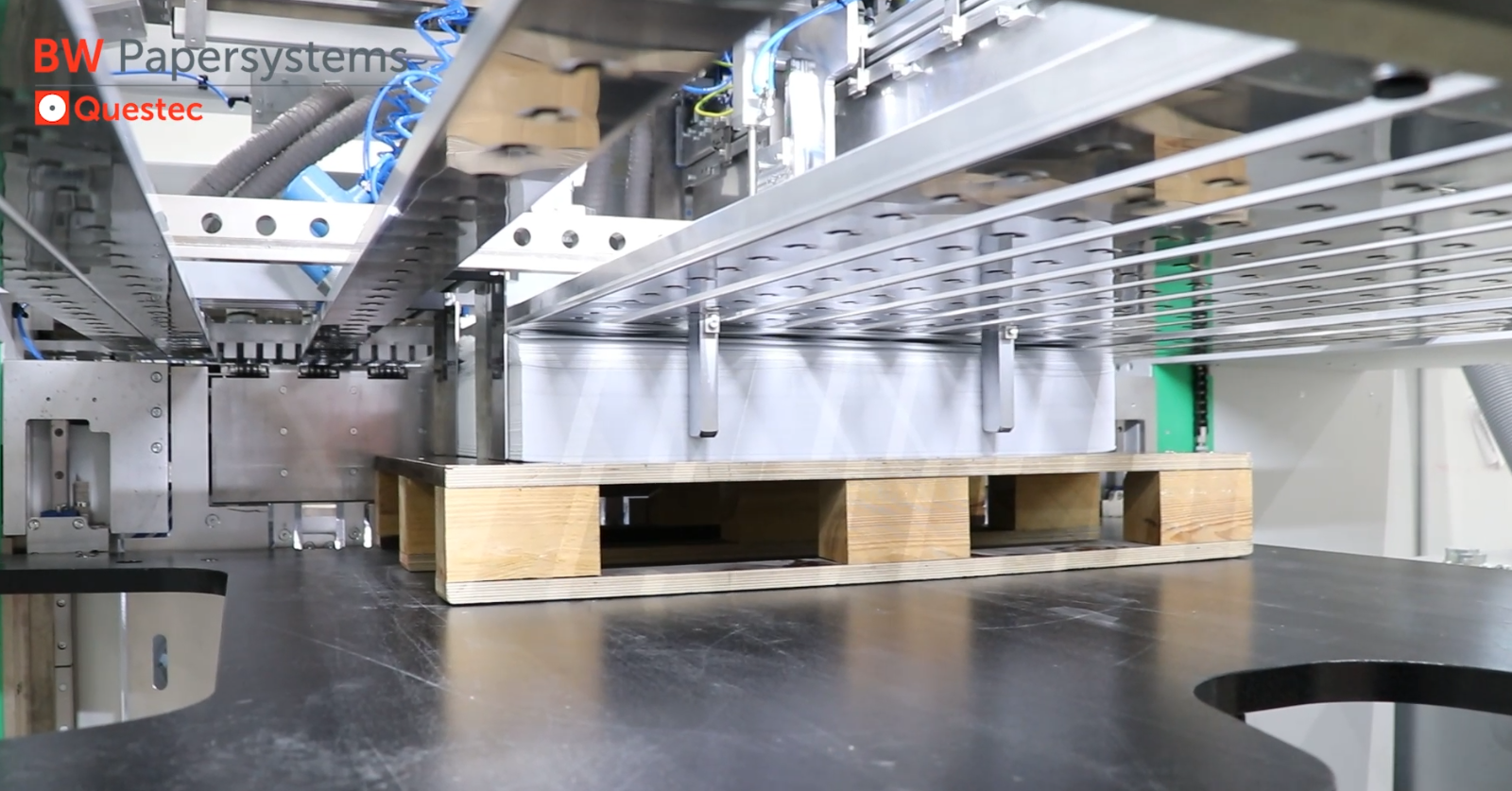 Questec RQS-V: sheeting 40 gsm lightweight paper at 300 to 400 mpm
---
With speeds of 400 m/min., the Questec RQS-V is the world's fastest variable rotary sheeter. It cuts lightweight paper, plastic film, beer labels and more at stepless variable cut-off lengths. This video demonstrates sheeting of 40 gsm lightweight paper, size 725 x 610 mm and, in 2 pocket operation, size 675 x 1110 mm - running at 300 up to 400 m/min. The sheeter can transport and cut single-layer thin printing papers starting from 30 gsm. For statically charged plastic film, transportation can start from 80 µm at a cut-off length of 400 mm - 1060 mm. This high-performance sheeter offers maximum flexibility, competitive technology, and high speeds.
Watch Video
Find Your Machine
---
BW Papersystems offers a wide selection of paper industry equipment with industry-leading technology.
Learn more about the BW Papersystems equipment and products offered.
Click Here
Works Well With
---
If you are looking for other machines in the process, here they are.
You Might Also Like
---
The machine or line you are looking at is great, here are some other models or individual line units.