Hawk 1650 Dual Rotary Sheeter
Product Description
---
The flexible Hawk Sheeter is the latest addition to a broad range of cost effective sheeting solutions. This medium-sized folio sheeter is designed to meet the needs for the folding carton, small printers, paper merchants and the converting industries.
Standarized dual rotary sheeter
Fixed width 1650 mm (65 in)
100% Metric Design
Incorporates legendary Marquip knife technology
Great stack quality due to the lateral jogging on stacker
Easy to operate and easy to maintain
Superior knife cut quality at all speeds
Better HMI diagnostics with better remote support options
Designed with no compromise in quality
The flexible Hawk sheeter is an efficient medium-sized folio sheeter for folding carton plants, small printers, paper merchants and the converting industries.
Great Stack Quality
With lateral jogging on the stacker the Hawk sheeter ensures great stack quality.
Superior Knife Cut Quality
This sheeter incorporates legendary Marquip knife technology, providing superior knife cut quality at all speeds.
Simple Operation
The Hawk sheeter is easy to operate and to maintain.


Advanced Diagnostics
Intelligent HMI (Human Machine Interface) diagnostics offer remote support options on the Hawk sheeter.


Technical Data
Product Details
Options
Metric
Imperial
Sheet Width
max.
1650 mm
65 in
Reel Width
max.
1830 mm
67 in
Reel Diameter
max.
optional
1850 mm
2100 mm
72 in
83 in
Reel Weight
max.
3400 kg
7500 lb.
Core Diameter
min.
max.
76 mm
305 mm
3 in
12 in
Speed
max.
300 m/min
980 ft/min
Length Accuracy
Single Web
+ / - 0,38 mm (0.015 in)
Length Accuracy
Multi Web
+ / - 0,5 mm (0.020 in)
Knife
max.
1000 gsm
Slitter
max.
600 gsm
Sheet Length
min.
400 mm
15.75 in
Sheet Length

optional
1650 mm
2080 mm
65 in
82 in
Low level reel trolleys are installed to allow safe and easy reel loading.
The dual position shaftless unwind loads reels directly from the floor or loading trolley.
The decurler section incorporates 2 or 4 x dual diameter roller decurlers.
A 2 position slitting system.
The most advanced Sheeter knife in the world
Pulsed airjets at the overlap section provides better reliability at higher running speeds
The stacker provides side jogging for great stack quality
Advanced PC based control system. The HMI has intuitive clear functionality and advanced on screen diagnostics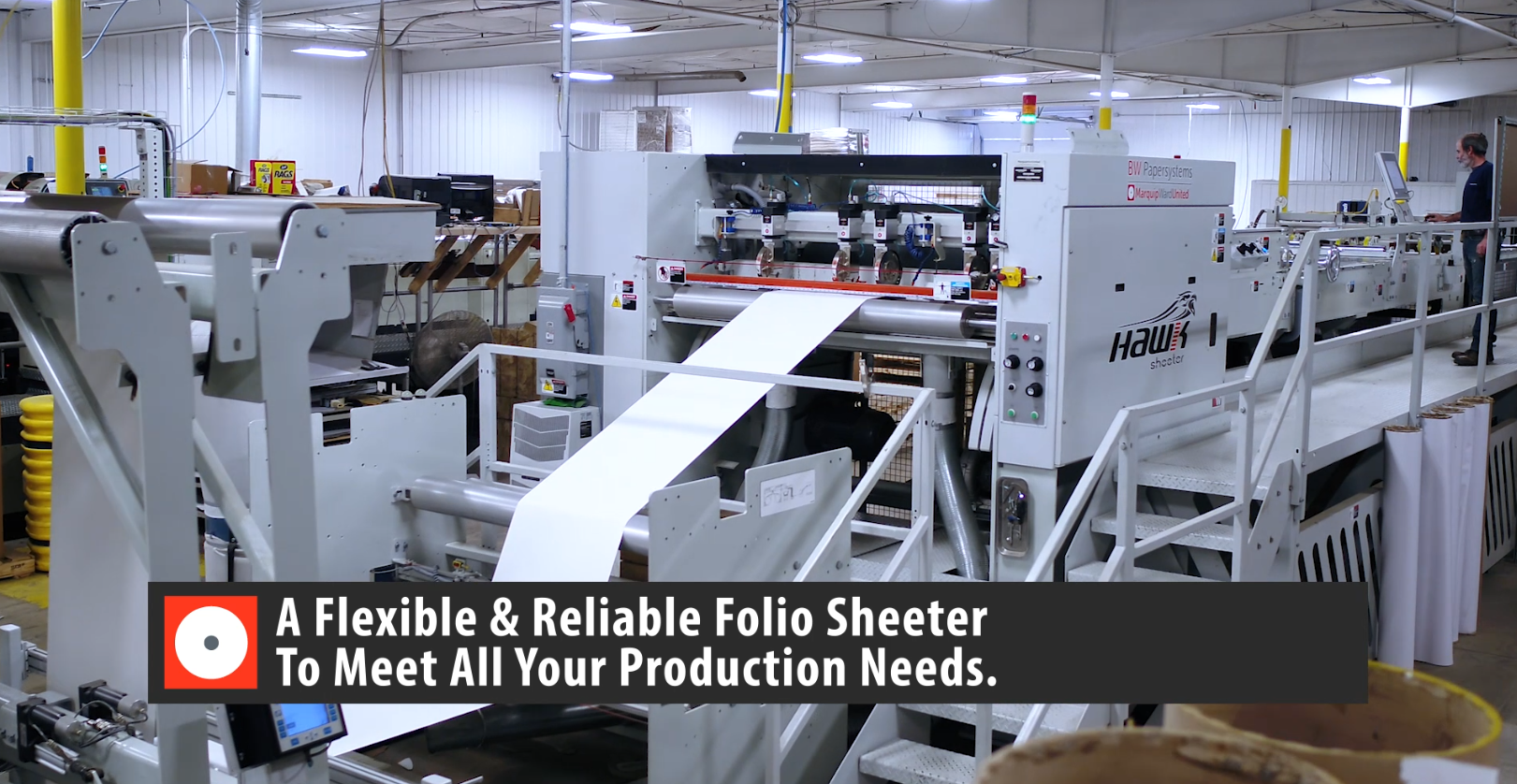 Hawk - a medium-sized Folio Sheeter for folding carton and paper converter
---
The Hawk Sheeter by MarquipWardUnited is a medium-sized folio sheeter and designed to meet the needs for the folding carton, small printers, paper merchants and the converting industries.
Watch Video
Find Your Machine
---
BW Papersystems offers a wide selection of paper industry equipment with industry-leading technology.
Learn more about the BW Papersystems equipment and products offered.
Click Here
Works Well With
---
If you are looking for other machines in the process, here they are.
You Might Also Like
---
The machine or line you are looking at is great, here are some other models or individual line units.