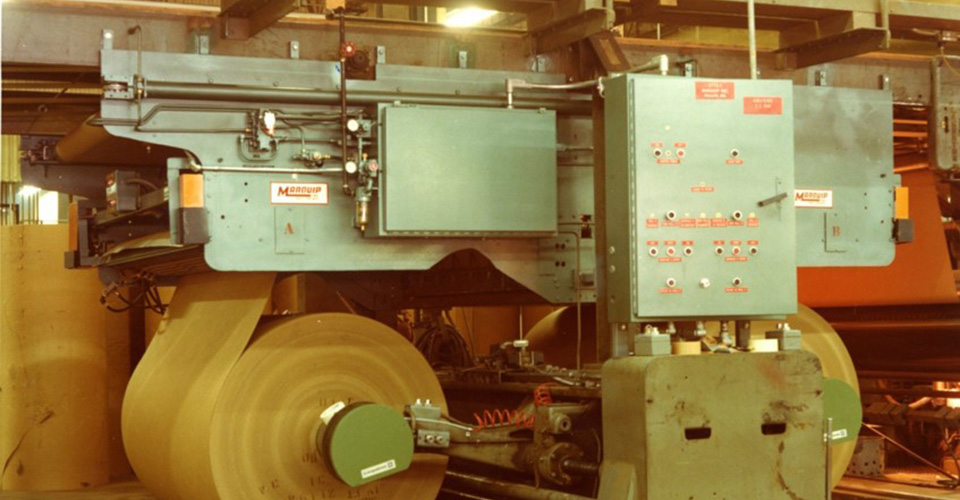 Part Two of Marquip's Journey Through Time
---
Customers and markets, always close, always open for new things
1976 was a pivotal year as it marked Marquip's transition from a custom machine supplier for the building products industry to a corrugator machine company. By the mid-1970s, Carl Marschke and Richard Thomas had invented 100 different types of machines for the building products industry, many were one-of-a-kind. They met with customers who were challenged with labor intensive and inefficient processes. Marschke and Thomas analyzed the process and assessed the problem. Then they created an idea for a solution and drew a concept. "We would estimate the cost and develop a market price, a sales package, that we presented to our customers," explained Thomas.
This customer needs-based approach has never changed. But at that time, the building industry was no longer looking for innovations. It was struggling to survive. Marquip had to reinvent itself: The company was forced to realign itself in order to survive. With their existing competencies Marquip had to seek out new markets.
"Don't come back until you've found a customer that has just two things: a product that's flat and some money." With this sentence, Carl Marschke sent out his sales people to find new customers outside Marquip's traditional industry. In 1976 they succeeded. Green Bay Packaging, a company active in the corrugated industry, partnered with Marquip to develop a high-speed splicer capable of splicing kraft paper at a speed of 600 ft/min. This successful technology called the Splicer, which was sold 4,700 times worldwide, made Marquip known in the industry as a serious supplier of high-value corrugating equipment. The entry into a new lucrative market was made.
The close cooperation between Marschke, Thomas and Green Bay Packaging should also be decisive for the further conquest of the corrugating and finishing industries. For their key customer, the Marquip founders developed many of the first machines, such as a downstacker, the RazorSet slitter/scorer, the direct drive cutoff knife, as well as a unique design singlefacer. Richard Thomas remembered, "We could meet with the plant engineer over coffee or a beer, sketch out a solution on a napkin, and then the plant engineer had the authority to issue us a purchase order. This is an extremely unique situation!"
-------------
The close cooperation with customers in the development and enhancement of products has not changed to this day. After the initial market research and a feasibility study, customers are interviewed to gauge their acceptance and desire for this product. If customer acceptance, purchase price and margin fit, the design will be developed market-ready after having passed a final management evaluation.
-------------
Although today not every material processed on BW Papersystems' machines is flat anymore, the company still has product lines that follow the principle 'Main thing flat'. Next to the corrugated industry, BW Papersystems also supplies the paper industry with sheeters for paper, plastic and magnet material.

Part One of Marquip's Journey Through Time
Find Your Machine
---
BW Papersystems offers a wide selection of paper industry equipment with industry-leading technology.
Learn more about the BW Papersystems equipment and products offered.
Click Here
With the acquisition of the ServoPro we have notably reduced the set up time and also increased the productivity of the machine both in quality and quantity.