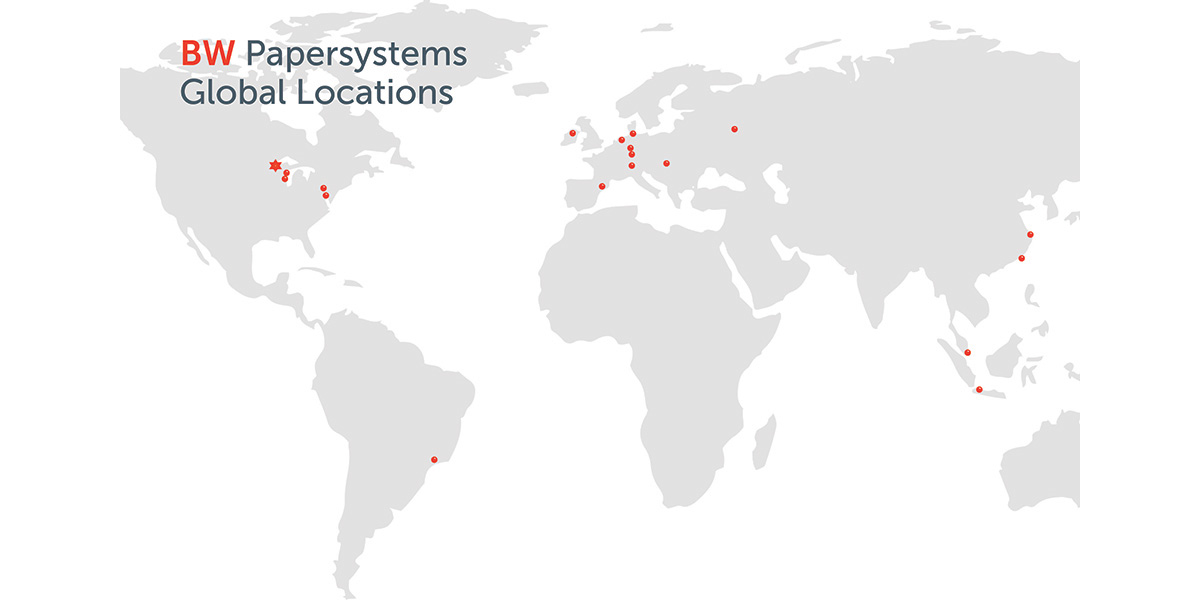 Part Three of Marquip's Journey Through Time
---
Going international to become a better company
In the late 1970s, one of Marquip's integrated U.S. customers asked them to build a machine for their plant in France. At that time, it became clear to Carl Marschke and Richard Thomas that their products would also find customers outside the home market. The decision to enter foreign markets was certainly about sales figures, but a great deal about experience and knowledge enhancement, too. Rick Paulson, Director of Product Development at MarquipWardUnited explained: "We are exposed to the different methods in which our customers run their businesses: from the very short order environments in Taiwan to light weight papers in Western Europe to extremely cost competitive projects in Latin America. Our international expansion has made us a better company".
In 1980, Marquip started the global expansion. They decided to open their first branch office outside the USA. From Zurich, Switzerland, Marquip provided field service to their customers owning Marquip equipment in Europe. From there and later on from Frankfurt, the sales office had moved there in 1988, Marquip conquered the Western European market as well as the EMEA states and provided reliable service and spare parts. "As we developed the company, we followed the market," told Richard Thomas.
At the same time, the Australian market was approached from the early 1980s and South America from 1988 via the office in Brazil. This was followed by branch offices in Singapore, 1991, Mexico, 1992, and Spain, 1994, and a software and engineering office in India. Marquip opened further branch offices in Japan and Taiwan in the mid-1990s and in China in the early 2000s.
Today BW Papersystems has manufacturing sites as well as sales, service and spare parts offices in different states of the USA as well as in Hungary, Italy, China, Taiwan, Germany, Brazil, Mexico, Singapore, Russia, Indonesia and Spain.
Although the home market in the USA and Canada still accounts for the lion's share of sales, the international orientation of MarquipWardUnited was and is crucial. "International markets have not only kept the lights on during slow cycles in our home market. But they have taught us how to make better equipment and offer better services," explained Rick Paulson, Director of Product Development at MarquipWardUnited. Over the last two decades, markets outside North America have accounted for 45 to 55 percent. During certain downcycles in the USA, the international business had even peaked at 80 percent.
Being well positioned internationally is the fundamental basis for doing international business. "We are recognized as leader or player in the industries we serve," said Blake Pluemer, Vice President Global Corrugating Sales at BW Papersystems. "It provides stability in our sales order stream and growth opportunities for our team members." Today, the company's machines can be found in approximately 120 countries and on all continents with the exception of Antarctica.
For this reason, MarquipWardUnited employees are open to the world. Quite a few spend a part of their professional life as expatriates in one of the worldwide locations, in many cases meeting their spouses on these assignments. And vice versa: More than ten international team members became U.S. citizens as well.

Part One of Marquip's Journey Through Time
Part Two of Marquip's Journey Through Time
Find Your Machine
---
BW Papersystems offers a wide selection of paper industry equipment with industry-leading technology.
Learn more about the BW Papersystems equipment and products offered.
Click Here
With the acquisition of the ServoPro we have notably reduced the set up time and also increased the productivity of the machine both in quality and quantity.