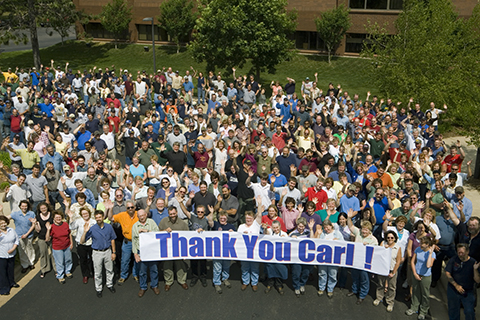 Part Six of Marquip's Journey Through Time
---
Being part of the family: BW Papersystems team members all over the world
In 2012, a BW Papersystems employee went into well-deserved retirement. Since Marquip's early beginnings, Dennis Rodewald had worked for the company in various positions, from designer to engineering manager, for a total of 44 years. He had been one of seven employees in the year he joined the company. As one of 42, he remained with the company during the 1974 real estate crisis. Like almost 2,000 other colleagues, he experienced the absolute height of Marquip at the end of the 1990s and became part of BW Papersystems along with about 600 other colleagues in 2000. Without interruption, he had been part of the Marquip family experiencing all developments and setbacks, highs and lows of the company as a loyal family member.
Dennis Rodewald is not an isolated case when it comes to the length of service of BW Papersystems team members. Currently, three gentlemen are 41 years and counting. Many dozens of team members are with the company over 30 years today and a majority stay for multiple decades. The average years of service is 16 years.
Several generations and family members often work at BW Papersystems at the same time. Fathers and sons, mothers and daughters, cousins and many married couples go to work together in the morning. The company currently has a total of 50 families whereas the largest one had six members who worked for BW Papersystems at the same time.
It is estimated that since Marquip's founding 50 years ago, more than 9,000 people have been employed at the Phillips location. "When you consider the size of this community, that's a significant number, especially since many of our team members spend their entire or most of their careers here," remarked Shayne Roberts, BW Papersystems Culture & People Development Director. "They join us and stay until they retire."
As largest single employer in Phillips, WI, BW Papersystems is a vital component of the community. "Everyone either works at BW Papersystems, is related to someone or is a friend of someone who works here, or knows someone who works here," commented Trish Kempkes, BW Papersystems' Director of Global Communications. They are proud of the company's long history and tradition and appreciate the company's strong culture and deep commitment to giving their people a chance to grow and thrive.
"It is great to be part of a growing company that is committed to getting better. Even in the worst of times we all pushed forward," remarked Rick Paulson, Director of Product Development at MarquipWardUnited. "Over the last 18 years, we have built a company with balance, depth and global reach. The team in Phillips and all over the world sees the opportunity to continue to improve and grow. Continuous improvement is part of our DNA," said Neal McConnellogue, BW Papersystems President. All of them know, whatever upheaval and change MarquipWardUnited will face in the next 50 years, the company's history has shown that there is always enough strength for renewal and innovation.
Part One of Marquip's Journey Through Time
Part Two of Marquip's Journey Through Time
Part Three of Marquip's Journey Through Time
Part Four of Marquip's Journey Through Time
Part Five of Marquip's Journey Through Time
Find Your Machine
---
BW Papersystems offers a wide selection of paper industry equipment with industry-leading technology.
Learn more about the BW Papersystems equipment and products offered.
Click Here
With the acquisition of the ServoPro we have notably reduced the set up time and also increased the productivity of the machine both in quality and quantity.