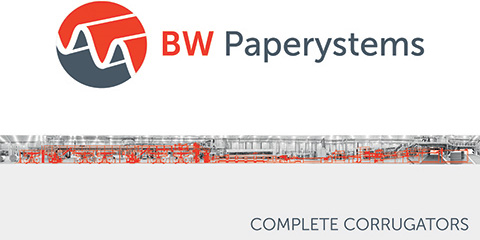 Part Four of Marquip's Journey Through Time
---
Driven by innovation and development: Marquip becomes a supplier for most complete corrugator lines
1998 was another outstanding year for Marquip. That year, the company launched a glue machine and a singlefacer and was now able to offer its customers a full corrugator line. Until then, Marquip was known to be an innovative supplier of excellent individual solutions for the manufacture of corrugated board. An excellent match with the purchasing behavior of the customers. Until the 1990s, they bought the best single machines for their corrugators. But now those customers were increasingly asking for complete solutions from one supplier. Marquip adapted to this trend, gradually expanding its range of products with leading-edge solutions, which delivered economical, faster and higher quality results for all stations of a corrugator. In 1998 the line solution was complete.
The high-speed splicer, Marquip's first product for the corrugated industry, was the company's most successful technology ever. "We shipped one every day for several years in the early 1990s," said Blake Pluemer, Senior Vice President Global Corrugating Sales at BW Papersystems. Although there was an industry-leading manufacturer with 98 percent of the market share, "Marquip's product development plan was to find out what customers are buying, then do it better," stated Rick Paulson, Director of Product Development at MarquipWardUnited. And Marquip did! Of over 10,000 machines shipped, more than 4,700 splicers have been sold to date.
Two years later, in 1978, the downstacker followed. It was able to deliver the exact number of desired sheets, to reject scrap before it entered the stack and to make an order change on the very next cut of knives. With its unique splicer and downstacker technology Marquip became an irreplaceable partner within large corrugator projects.
A further innovation for the completion of a corrugator line and probably "the biggest contribution to making Marquip" (Richard Thomas) were the direct drive cutoff knife invented in 1982. "We can run the knife with an extension cord!" was one of Marquip's sales arguments for their cutoff knife. Customers were used to spending hundreds of thousands of dollars for electrical installation followed by extremely high daily costs and energy waste of huge electrical energy consumption. Marquip's direct drive cutoff knife only required 10% of the peak power required by conventional knife design.
It totally changed the competitive landscape in the early 1980s by having a speed curve that allowed short sheets to be run at high speeds. Customers and competitors could not believe these speed curves to be possible. Time proved them wrong.
The cutoff knife was followed by a shear in 1983 and a quick-change servo slitting and scoring machine in 1984. Industry experts warned Marquip not to build an automatic slitter-scorer as there were only four or five of these in the market. Customers were not buying automatic slitters, they said, and Carl Marschke responded, "We're going to change that." And Marquip did.
At that time, the company was able to deliver complete dry ends and splicers accounting for half of a corrugator. A next important step towards becoming a total dry-end supplier was the invention of the RazorSet thin-blade slitter developed in 1989. This technology truly changed the way corrugated board is manufactured today. Prior to this time double and triple wall products had rolled over edges and unsightly 'crow's feet' tears on the edge, whereas a box cutter left a clean crisp edge. Marquip now did the same with a rotary high-speed system. It became one of Marquip's most successful product launches and led to an unprecedented period of growth.
The automatic roll stands in 1991, the Pyro beltless doublebacker in 1996, the Vacuum Traction Section (VTS) in 1996 and the Twin Box slitter in 1993 (winner of the "Best at TAPPI" award) were the last innovations before two years later the corrugator line was completed.
Since 1975, Marquip had been constantly working to expand its good name as a supplier of corrugated equipment. At the end of the 1980s, the company decided to transfer their innovative capacity and their competence in cutoff knives ("Knives are us.") to the paper and board sheeting industry. In 1989 Marquip built and shipped its first sheeter to Georgia Pacific in Dubuque, IA.
In 2014, the company launched its successor, the eCon sheeter. Combining high quality and low price, this sheeter has been a successful addition to the company's range of sheeting solutions. Until today, it was sold fifty times to customers' sites in the USA, Latin America, Europe, Australia and Asia, underlining BW Papersystems' ever-growing importance as a serious manufacture of sheeting equipment.
MarquipWardUnited's high innovation competence is also reflected in the number of patents that the company has filed and been granted in its history. The first patent ever was granted to Marquip in June 1969. Since then 120 patents have been granted in the U.S.A. and 140 worldwide.

Part One of Marquip's Journey Through Time
Part Two of Marquip's Journey Through Time
Part Three of Marquip's Journey Through Time
Find Your Machine
---
BW Papersystems offers a wide selection of paper industry equipment with industry-leading technology.
Learn more about the BW Papersystems equipment and products offered.
Click Here
With the acquisition of the ServoPro we have notably reduced the set up time and also increased the productivity of the machine both in quality and quantity.