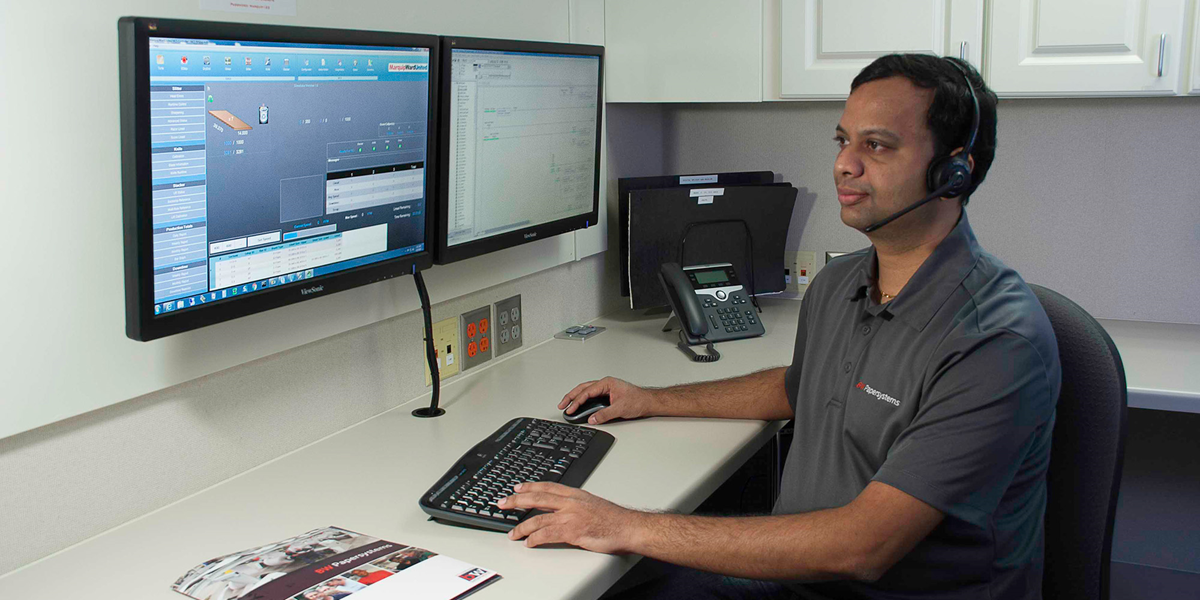 Part Five of Marquip's Journey Through Time
---
Servicing customers for long-term success
In 2000, when Marquip was bought by Barry-Wehmiller the company counted an installed base of 6,457 machines. As maintenance staff within the corrugated industry was very limited, Marquip had already started offering field services in 1975. Barry-Wehmiller recognized the huge potential of the aftermarket business, such as selling upgrades, pre-owned equipment and rebuilding machines, in addition to providing spare parts and field service. They installed a dedicated sales team comprised of former field service technicians to foster the Aftermarket business.
Today, a team of 116 field engineers and representatives with an average professional experience of 16+ years supports BW Papersystems customers. They are located in North and South America, Asia, Africa and Europe wherever customers need fast support. In addition, as field service travel to support BWP's customer, they are supported by 100s of team members from engineers to customer service representatives to provide an exceptional customer experience.
BW Papersystems experts offer customers a wide range of services from the beginning to the end of the machine life cycle. Service technicians install machines; conduct on-location training; (they offer training at BWP locations, too) perform machine evaluations and provide an executive summary of recommendations. BWP offers standard and custom maintenance packages to fit plant operation needs. Sometimes, recommendations and solving issues are handled with online services for fast diagnosis and repair. BWP can use remote diagnostics, or BWP's Field View to discuss issues with operators and maintenance personnel over an application on a smartphone. BWP also can help with efficiency improvement programs to clean, sort, set up machines for order change quicker, and continuous improvement events.
BW Papersystems provides 24-hour, 7 days a week, support to purchase spare parts. BWP has 50 team members and 9 parts warehouses located all over the word as well as corrugated roll support.
Installation of new equipment is a pivotal time of operation. BW Papersystems pursues a clear installation strategy. During all installation phases, experts of BW Papersystems support the customer to achieve operating output during the commissioning phase. All projects are accompanied by a risk management system, and results from important lessons learned with each order and thus to continuous improvement is ongoing.
BW Papersystems experts are also there for their customers beyond the installation phase. When the advanced maintenance support is chosen, BW Papersystems customers are supported on site for up to 24 months - from installation to self-supporting maintenance. BW Papersystems experts assist with recruiting, hiring and training qualified personnel or training of local technicians for the on-site plant support. And on top of all, BW Papersystems offers long-term support.
"Service is the most critical element of long-term success and repeat customer business," said Blake Pluemer, Senior Vice President Global Corrugating Sales at BW Papersystems. "Our service philosophy says that the company supports their customers 24 hours a day, 365 days a year, regardless of how old a machine is or how a customer came to own it." A machine not able to produce has priority over all other activities.
And by the way … the oldest machine still in operation and serviced by BW Papersystems is a Marquip Medium Splicer shipped to Georgia-Pacific West Monroe on December 1, 1976.
Part One of Marquip's Journey Through Time
Part Two of Marquip's Journey Through Time
Part Three of Marquip's Journey Through Time
Part Four of Marquip's Journey Through Time
Find Your Machine
---
BW Papersystems offers a wide selection of paper industry equipment with industry-leading technology.
Learn more about the BW Papersystems equipment and products offered.
Click Here
With the acquisition of the ServoPro we have notably reduced the set up time and also increased the productivity of the machine both in quality and quantity.