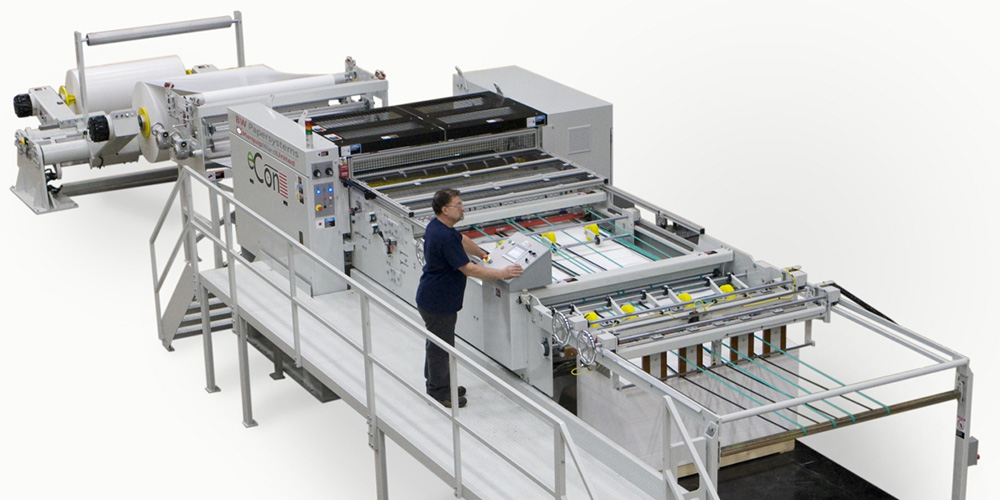 India's middle class – driver for a folio-size success story
---
India. A rapidly growing economy, a democracy and soon the most populous country in the world! Many sectors benefit from average GDP growth rates well above 6 %. So do the paper and print industries. The value of the print industry is estimated to grow from 660 bn INR in 2017 to 862 bn INR in 2021. With annual growth rates of 4 %, experts see the best growth opportunities for print publishing and print packaging. This corresponds with a growing paper industry touching 25 million tons per year in 2019/2020. With a folding carton market growth of 6.6 % between 2017 and 2022 (Smither Pira), one might ask the question: What's in it for folio-size sheeting, then?

India's demand for fast moving consumer goods and premium products
One of many factors forming the basis of this growth is India's new middle class. Varying in definition and figures, experts agree: the middle class is growing fast. Rising incomes, higher awareness for health and personal care and changing lifestyles make those Indian ask for more fast moving consumer goods (FMCG) and premium products as the Indian Brand Equity Foundation (IBEF) states. The growing number of online users, with an estimation of 625 million in 2021, and a rapidly growing e-commerce industry facilitate their accessibility. Foreign investments in the local FMCG production and the strong export of pharmaceuticals are additional growth drivers according to IBEF and FICCI.
Intended for the Indian market or for export, all of these products require packaging, ideally folding carton; with the consequence of a rising demand for (high-quality) paper and board processed from the pallet on sheet-fed presses.


Higher efficiency, better product quality, high-quality paper and board sheets


According to Kamal Chopra, All India Federation of Master Printers (AIFMP), India's print industry responds by focusing on modern printing technologies and promoting the use of information technology. Their target: to increase efficiency of the systems and significantly improve print quality. Customers not only require cost-competitive packaging for the growing FMCG market. International brand companies entering India demand high-quality paper and paperboard, enhanced printing and finishing to guarantee consistency of packaging worldwide, states Smither Pira.
As a consequence, the demand for various and high-quality paper and board grades increases. Printers require sheets being dimensionally very accurate, flat and clean cut. These quality features as well as precise stacking make offset printing machines run faster, have fewer wash ups on the printing blankets and greatly improve overall efficiency, output and ultimately print quality of the finished products.
And printers need them on short notice! But how to combine product variability and short delivery times?


Sheeters make the difference when it comes to high-quality end products


Using flexible folio-size sheeters, flexible folio-size sheeters, paper mills and merchants can offer sheeted material in different formats and grades, thus, reacting quickly on (changing) market demands. Alternatively, inhouse sheeting at larger printing houses allows for higher flexibility, shorter time-to-market and reduced stock material.
Many of India's largest paper and paperboard manufacturers of paperboards and specialty papers are researching increasing overall output. Previous dead knife sheeters had not achieved the quality and accuracy targets required by paper and paperboard manufacturers. They and their customers are looking for better quality, cleaner cutting and more accurate sheets. The eCon sheeter from BW Papersystems, with its on machine cross cut knife sharpening, offered the best sheet cutting quality available. Its innovative decurling system has automatic power adjustment, low power consumption, reduced maintenance requirements and simple operation had significant impact on the purchase decisions, too.
"The mill's local customers – printing houses all over India - require quick and accurate deliveries to cope with their own customers' needs and expectations," says Peter Stokley, Sales Manager at BW Papersystems. "Our customer was looking for a flexible high-quality sheeting solution fitting their market leading position for value-added paperboards and specialty papers. They found it with our eCon sheeter."

The future of folio-size sheeting


According to Smithers Pira the folding carton market in India will offer continuous growth opportunities. Ongoing urbanization and a growing middle class with improving disposable income will meet a growing retail infrastructure and an ever-growing e-commerce industry. Recent investments into carton board production underline the paper mills' trust in a growing market. Many of those grades will be processed on sheet-fed presses, which requires reliable folio-size sheeting equipment. Why not opt for maximum sheet quality more often? Find more information. And get in contact with us!
Find Your Machine
---
BW Papersystems offers a wide selection of paper industry equipment with industry-leading technology.
Learn more about the BW Papersystems equipment and products offered.
Click Here
With the acquisition of the ServoPro we have notably reduced the set up time and also increased the productivity of the machine both in quality and quantity.