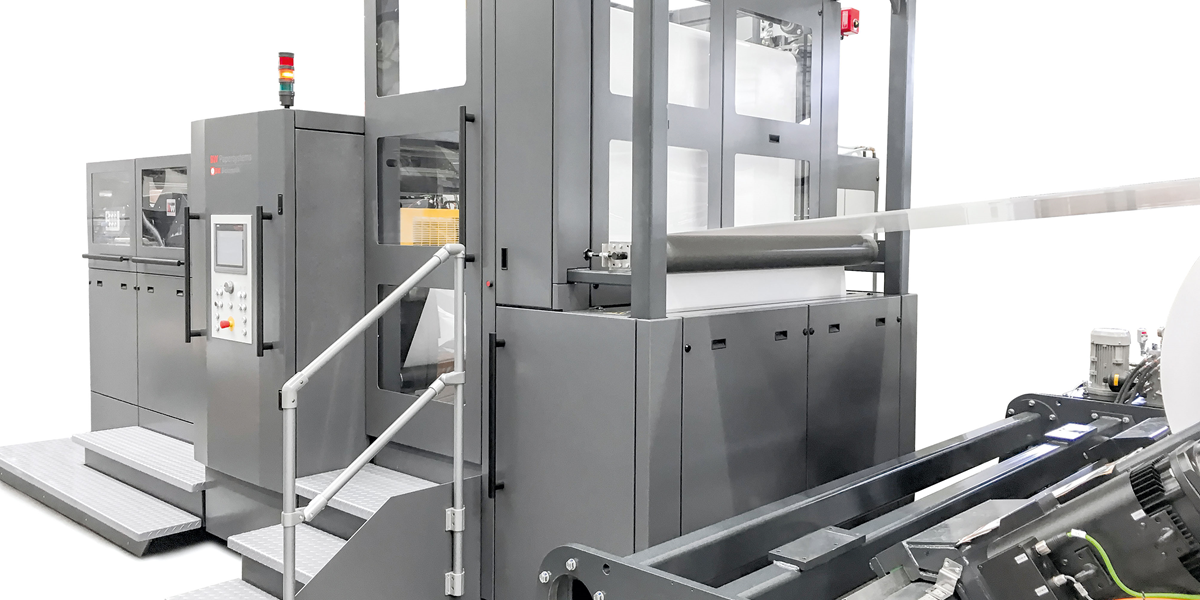 BW Bielomatik Launch Inline Sheeter for Large Format Offset Presses
---
In house testing for the new BW Bielomatik model LFS 165 large format inline Sheeter have just ended with amazing results
For many years, Offset Printers have installed inline sheeters to achieve greater speed and better reliability with light weight paper or plastic films, or to enjoy the cost difference between rolls and sheets.
Over 700 units mainly in 105 or 106 formats are operating today.
Some of these printers have upgraded to large format 145 or 165 presses only to find that no inline sheeter option was available.
The task of building a sheeter over 50% wider with increased speed and more automation is very challenging. These machines need to follow the press and are required to start and stop within milli-seconds whilst maintain sheet accuracy and sheet synchronization. The increased width and maximum sheet length result in greatly increased inertia, the enemy of fast start and stop.
Stuttgart based design team of BW Papersystems utilized leading edge controls technology and called on knowhow from their US based colleagues to harness established BW Papersystems technology, to decrease the impact of this increased mass and inertia.

The results have been stunning. During testing the machine could switch from 200gsm material to 40gsm with virtually no manual intervention or impact on speed. The LFS 165 sheeter ran consistently at 300m/min matching the requirement of the latest large format sheet fed offset presses.

The model LFS 165 represents a large step forward in speed, light weight material performance and automation. It is available for installation with all press manufacturers and can also be installed to machinery already in production.
For more information please contact Steve Brimble (steve.brimble@bwpapersystems.com) or Harald Stumpp (harald.stumpp@bwpapersystems.com).
With the acquisition of the ServoPro we have notably reduced the set up time and also increased the productivity of the machine both in quality and quantity.