TIP F 5500 Heavy-Duty Camera System to Monitor Fault-Prone Machine Areas
Machine Model for Improvement
All production lines
Description of Improvement
This heavy-duty industrial stand-alone camera system consists of 4 cameras (optional 8 cameras) that can be installed anywhere on the machine on difficult to acces areas inside the machine. All components are proven under heavy industrial conditions indoor and outdoor.
A magnet holder system ensures easy fixing of the small cameras wherever needed. Potential areas for camera positioning include trim removal (especially for dual slitters), collecting unit or reject gate. The cameras are available with different wide angles and optional with self-focusing.
All cameras are centrally connected to a 12" monitor (optional 24" monitor) which can be positioned whereever you choose. Operators can conveniently watch all fault-prone machine areas at the same time on a single monitor (fourquadrant split or individual configurations). An optional recorder for video recording is also available.
The camera system includes all necessary components and cabling, depending on the chosen position of the monitor, you might need additional installation material.
Benefits
Flexible system can be used anywhere on the machine -

wherever needed

Reduces downtime as faults can be detected earlier
Camera system can be configured according to individual

requirements
Technical Service
---
The BW Papersystems Service Department is a highly dedicated team of people committed to giving the best customer support in the industry. Trained technicians are available for emergency service, machine updates and maintenance.
Technicians are available throughout the world for fast response and quality service. Learn more about how our service technicians can help you.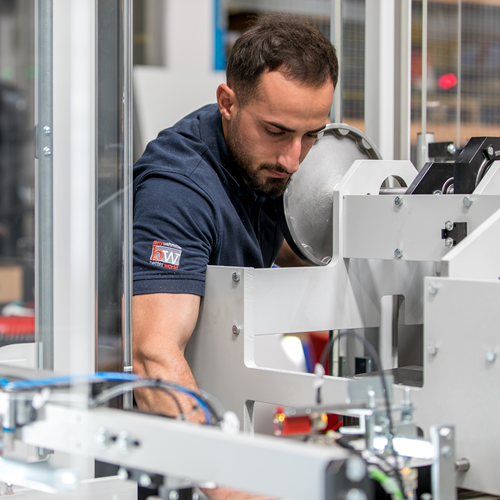 A sheeter that we had planned especially for our lightweight specialty papers has become an all-round smart sheeter that can process even heavy grammages up to 300 gsm with maximum cutting accuracy.