TIP F 4080 Upgrade of Drives (Directdrive), Binary Control & Automation to Siemens PLC-S7 TIA (AC to AC)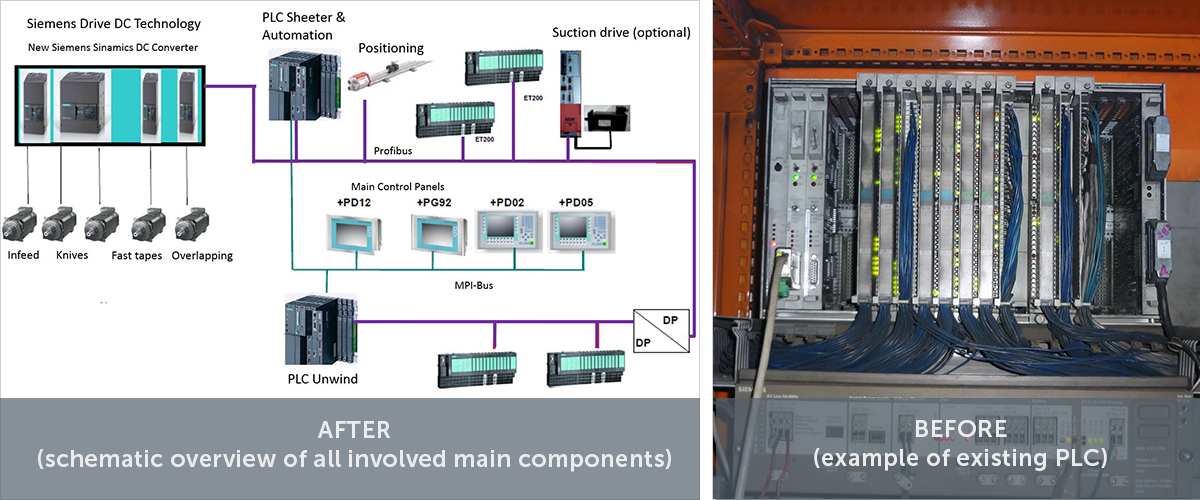 Machine Model for Improvement
All Jagenberg sheeters with PLC-S5 and direct drive
Description of Improvement
Critical components for the Siemens S5 machine control are obsolete and spare parts are no longer available. If any of these components should fail or break, extensive sheeter downtime and costly production loss would result.
This upgrade converts the Siemens S5 machine control and automation to a Siemens PLC-S7 TIA machine control and automation. All components, such as the CPU and I/O cards and necessary peripherals (e.g. new HMI panels) are replaced.
In addition to the scope of supply of TIP F 4055, this TIP module includes new drives according to the schematic overview above. The converters, controllers and encoders (if required) will also be replaced. For a DC/DC configuration the existing switch cabinets will be used further. For a DC/AC and AC/AC configuration new switch cabinets are included in this upgrade.
The sensor technology and actuators are not included in this upgrade and can be used further. The existing main motor will not be replaced.
The Automation will be implemented with the following functions:

degressive web tension control with master roll
automatic detection of numbers of layers for the counting
recording and display of machine speed
input of size length and transfer to the drive
detection and display of the size length
sheet counting according to sheets and reams
fast jam protection (sheet / gap monitoring)
output of the signals for the inserting units
pile change after achieving desired sheet count, desired ream
gate control with fault transportation of two sorting lines
fault messages (of the new automation) on the operating terminal
connection to the existing control
Benefits
Modern machine control replacing obsolete S5 components

- ensures spare parts' availability

Prerequisite for further upgrades
Investment typically pays for itself within days - compared

to unplanned downtime
Technical Service
---
The BW Papersystems Service Department is a highly dedicated team of people committed to giving the best customer support in the industry. Trained technicians are available for emergency service, machine updates and maintenance.
Technicians are available throughout the world for fast response and quality service. Learn more about how our service technicians can help you.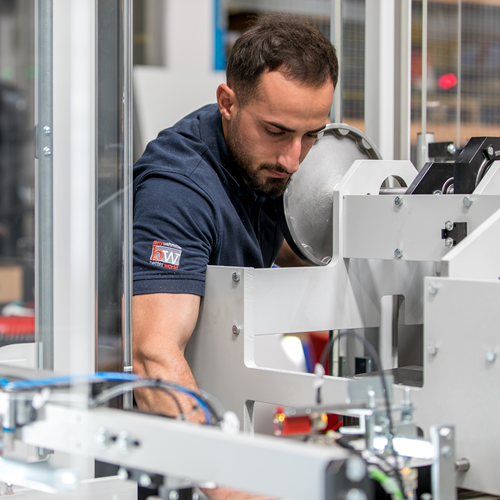 A sheeter that we had planned especially for our lightweight specialty papers has become an all-round smart sheeter that can process even heavy grammages up to 300 gsm with maximum cutting accuracy.