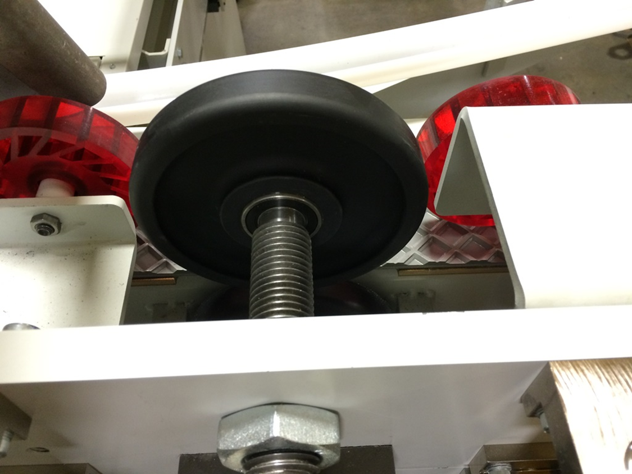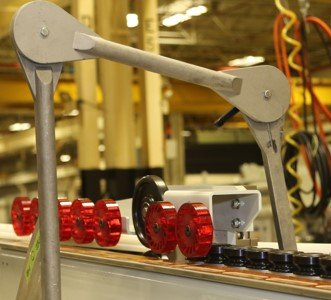 Upgrade Description
The folder enhancement package is designed to reinforce the score and continue the scoring process through the critical angle of the fold. In addition, it reduces jams by diverting scrap from product and surrounding areas. The package contains jointed folder rods, continuous scoring folder, and folder scrap blower.
Jointed Folder Dials — Double jointed, easy-to-position, folding rod arms with graduated dials increase flexibility in selecting proper rod angle and position for optimum flap and fold control. Graduated dials allow operators to record arm position to reduce set-up time.
Continuous Scoring Folder — An array of profiled scoring wheels, urethane rollers, and extended contoured flap guides to reinforce the score and continue the scoring process through the critical angle of the fold. Fully adjustable scoring wheels (located on the upper folding rail) allow the operator to vary the width and depth of the score to compensate for any moisture, substrate or liner combination, or other issue.
Folder Scrap Blower —An adjustable air knife assists in redirecting scrap that would typically follow the unfolded box up the folder.
Pricing, Installation, and Delivery
Contact your MarquipWardUnited Regional Product Support Manager or Regional Customer Support Office for pricing and delivery.
Warranty
One year on components.
Technical Service
---
The BW Papersystems Service Department is a highly dedicated team of people committed to giving the best customer support in the industry. Trained technicians are available for emergency service, machine updates and maintenance.
Technicians are available throughout the world for fast response and quality service. Learn more about how our service technicians can help you.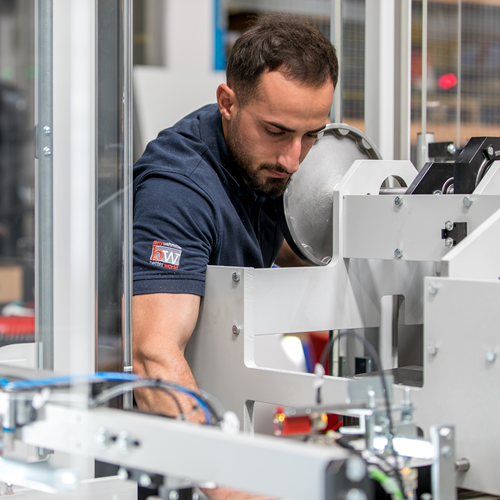 A sheeter that we had planned especially for our lightweight specialty papers has become an all-round smart sheeter that can process even heavy grammages up to 300 gsm with maximum cutting accuracy.