TIP C 2103 Replacement "AMK Light" of Obsolete Drives V1 & V2 at the Ream Discharge
Machine Model for Improvement
All E.C.H. Will cut-size sheeters type SLK 440 and SLK 480 equipped with
single ream discharge conveyor with Contraves drive system
Description of Improvement
All Contraves motors, controllers and HRU, PCU, ETU drive systems with encoders for the V1 and V2 drives at the ream discharge are obsolete. Any breakdown of these parts will cause an extensive and expensive unplanned stop in production.
This low cost upgrade to replace only obsolete parts greatly improves machine availability.The Contraves motors are exchanged for maintenance-free, state-of-the-art AMK AC servo drive motors and the Contraves drive components in the existing electrical cabinets are replaced by modern AMK drive components. This new drive system also reduces the number of mechanical parts such as universal joint shaft and coupling. The use of just one type of motor and one type of controller reduces the number of spare parts needed. New cables to and from the controllers and motors are included in the scope of supply.
The new AMK drive system enables automatic ream gap compensation after an interruption in sheet count, for example when sheets are rejected at sheet reject gate (sheets with splices). In addition, an optimum ream discharge speed ramp control further improves synchronization to the ream wrapper as well as overall performance.
Benefits
Low cost investment: replacement of obsolete drive parts using existing electrical cabinets
Improved machine availability and optimized ream

discharge speed ramp control

Modern AMK system with maintenance-free AC motors
Technical Service
---
The BW Papersystems Service Department is a highly dedicated team of people committed to giving the best customer support in the industry. Trained technicians are available for emergency service, machine updates and maintenance.
Technicians are available throughout the world for fast response and quality service. Learn more about how our service technicians can help you.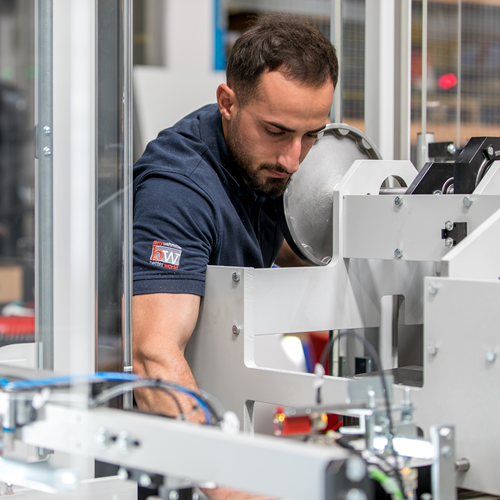 A sheeter that we had planned especially for our lightweight specialty papers has become an all-round smart sheeter that can process even heavy grammages up to 300 gsm with maximum cutting accuracy.