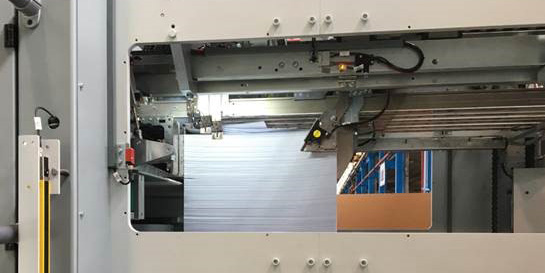 BW Papersystems Introducing Inline Sheeter/Stacker for Digital Presses
---
BW Papersystems, the worlds' largest manufacturer of Sheeting machinery is introducing a range of in-line and off-line sheeters aimed at digital printers.
A major driving influence for any company considering the purchase of a Digital Press is flexibility.

There is little point in installing a press able to change size and job instantly only to be held back by the finishing solution.
Having gained vital knowledge in cooperation with a major digital press manufacturer, BW Papersystems are developing a range of Sheeters suitable for digital commercial printing and packaging applications.
With a material range of 60-400 gsm, sheet length range of 440-1220 mm and speed options between 80 and 350 m/min most applications can be covered. The machine is currently available in 762 mm width but widths of 1060 and 1650 mm will be added later.

Options include:
Automatic job change including size change in 5 seconds
Automatic Sheet Rejection
Automatic sample sheet collection
Non- stop pallet change
Smart register mark technology for sheet identification and routing
Web trimming and centre slitting
To meet the "total flexibility" mantra of the digital print industry, these machines will utilise a job library for instant recall of historic jobs meaning that the Sheeter will be ready when the press is.
For further flexibility the Sheeter can be installed purely inline, in-line with the option to run offline (when the press is in roll to roll mode) or offline. When running in off-line mode the Sheeter can either cut plain paper to be printed on sheet fed presses or cut pre-printed reels from another press in register.
By installing a Sheeter in-line with the digital press, the customer can continue to use his full range of finishing equipment rather than being tied to a single finishing solution attached to the press.
It is envisaged that customer will include both press manufacturers and printing companies.
For more information please contact Steve Brimble (steve.brimble@bwpapersystems.com) or Harald Stumpp (harald.stumpp@bwpapersystems.com).
Find Your Machine
---
BW Papersystems offers a wide selection of paper industry equipment with industry-leading technology.
Learn more about the BW Papersystems equipment and products offered.
Click Here
With the acquisition of the ServoPro we have notably reduced the set up time and also increased the productivity of the machine both in quality and quantity.