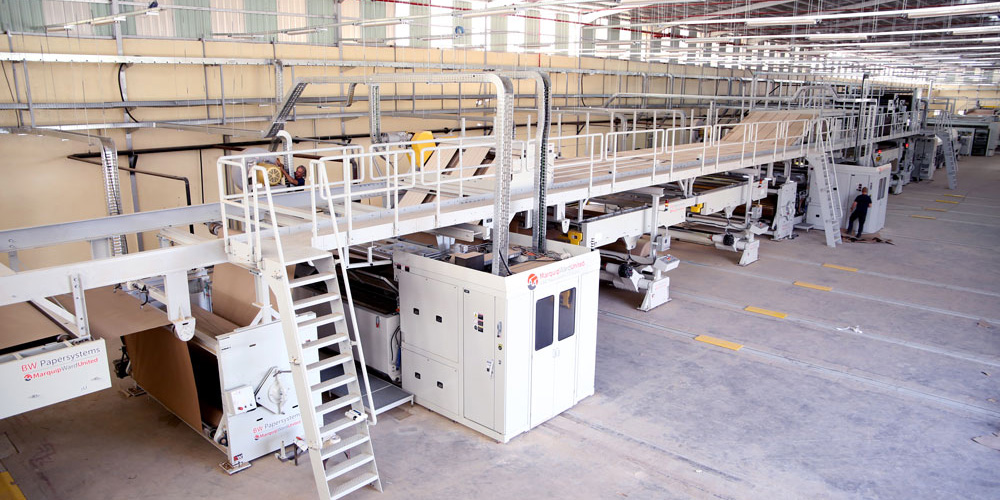 Al-Medan Expansion in Saudi Arabia
---
Original Article
was reposted from the June issue of IPBI
Founded in 2010 and owned by the Al Otabi family, Al-Medan Project Factory for Carton is one of the leading corrugated packaging producers in Saudi Arabia. The company produces a wide range of corrugated packaging solutions for customers throughout the Arabian peninsula, as well as for export to neighboring countries, including Jordan. Typical industries served include mineral water, food & drink as well as ceramic producers
The facility, which was built as a greenfield site 11 years ago, has been extended over the years and now covers 40,000sqm. Located the Al Kharj Road industrial area in Riyadh, the company employs over 360 people.
A comprehensive range of corrugating and converting equipment have been installed. Production is handled on no fewer than three corrugators and 12 converting lines. Producing around 45 million different types of boxes, the plant averages 12,000 tons of corrugated board per month. Al-Medan runs a 2.2m doublewall corrugator, a 2.5m singlewall machine and the latest addition, a 2.5m BW Papersystems doublewall machine. In converting, the company runs a range of flexo rotary die-cutters, flexo folder gluers, flat bed die-cutters and folder gluers. End of line strapping and wrapping ensures finished goods are of the highest standard for delivery to customers.
Expansion Plans
"As one of the larger packaging companies in the region, we have seen the demand grow for our solutions over the years," explains Mosad Ewais, General Manager (pictured below). "As our business has grown, so we have continued to invest in new equipment to ensure we could meet the demand of our customers."

The latest project began about three years ago, when the company was looking to install a new high speed corrugator and additional converting equipment. Ewais and his team started looking at what was available in the market and thanks to the good service and after-sales support in the region and the experience they had from previous machine installations at the factory several years earlier, they began working with BW Papersystems again. Following several months of discussions and detailed planning, Al-Medan opted for a new 2.5m doublewall corrugator and two new flexo converting lines for the latest phase of the expansion.
The corrugator is a MWU 2.5m complete line, capable of running at 300m per min. It produces around 6,000 tons of board per month. A VortX starch mixing system has also been installed, to help ensure consistent mixing and supply of starch for the new high speed corrugator.
The company also installed a BW Papersystems Curioni 16.24 rotary die-cutter, complete with pre-feeder and palletiser. The line can run at 180 sheets per minute, with maximum sheet size of 1600mm x 2400mm. As well as the rotary die-cutter, they also chose to install a BW Papersystems 2000NT miniline. This casemaker runs maximum sheet size of 800mm x 1800mm.
Training Was Critical
"We have a solid team of international operators and engineers in our facility," explains Mosad Ewais. "We try to recruit experienced operators, but we have a good team, so if we recruit people with lower levels of experience, we are able to train them internally."
He continues, "The training from the BW Papersystems team was really good when we started up the new corrugator and the two additional flexo converting lines. They explained all aspects of the equipment to our teams – not only how to run the equipment effectively, but also how to maintain them as well. We had a six month extended contract for support and it worked successfully for us and has ensured we are getting the most out of every machine."
COVID-19 Impact
Like every country in the world, Saudi Arabia was affected by the COVID-19 pandemic over the last 14 months. "We saw a rapid development in the online and e-commerce space," confirms Mosad Ewais. "Our customers wanted more e-commerce boxes and thanks to the wide range of speciality gluers and casemakers we have at our disposal, we were able to cater effectively for this growth in demand. But overall, the last year has been a solid year for us and we continue to grow. Having the new equipment from BW Papersystems has certainly played out well."
He concludes, "We are not finished just yet. We have plans to install another corrugator in 2022 as well as more converting capacity. The relationship we have forged with BW Papersystems has been really good and we look forward to continuing the relationship for many years to come."
Find Your Machine
---
BW Papersystems offers a wide selection of paper industry equipment with industry-leading technology.
Learn more about the BW Papersystems equipment and products offered.
Click Here
With the acquisition of the ServoPro we have notably reduced the set up time and also increased the productivity of the machine both in quality and quantity.