Corrugated Overhead Display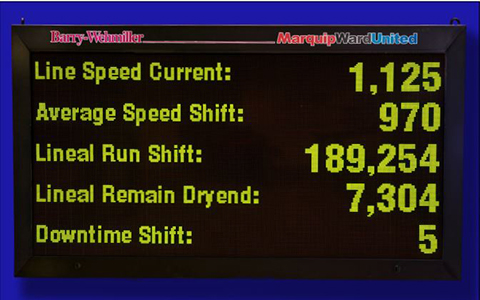 Upgrade Application
Applicable to the wet and dry end
Upgrade Description
The upgrade provides a highly visible scoreboard of corrugator running information to improve corrugator efficiency and operation.
Upgrade Features
Double-sided display for viewing at the wet end and dry end
Different data may be displayed on either side independent of the other
Display sides have 5 degree downward tilt for ease of viewing from below
Long life LED lamps ensure long life in a corrugated box plant environment
Standard size: 2032 mm (80") wide by 1016 mm (40") tall with 5 lines of 140 mm (5.5") tall numeric characters.
Available with MCS controlled, DECC controlled, or as a stand alone unit.
Control Unit for the display is mounted in either the MCS control cabinet or the DECC control console.

Upgrade Benefits
The display allows the corrugator crew to instantly know corrugator run information so they can take appropriate action more quickly.
The display can be a motivational tool for operators showing the information on the goals to meet and exceed. This can be incorporated as a gain sharing tool for plant managers looking to improve their profitability.
Prevent downtime and waste by informing operators of order and corrugator status.
Real-time display of key indicators provides immediate feedback to the corrugator crew to know where they are now and helps them make adjustments to get where they need to be.
Technical Service
---
The BW Papersystems Service Department is a highly dedicated team of people committed to giving the best customer support in the industry. Trained technicians are available for emergency service, machine updates and maintenance.
Technicians are available throughout the world for fast response and quality service. Learn more about how our service technicians can help you.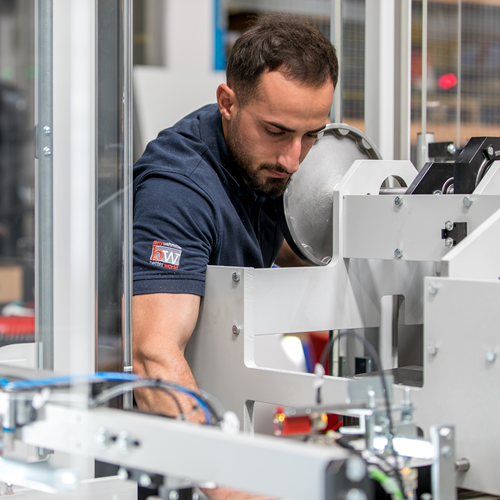 A sheeter that we had planned especially for our lightweight specialty papers has become an all-round smart sheeter that can process even heavy grammages up to 300 gsm with maximum cutting accuracy.